I. Company
Aksun Tarımsal Ürünler A.Ş, a member of Akıncigil group of companies based in Turkey, started fresh fruit and vegetable export since 1989.Having a wide range of products, Aksun serves its customers by supplying 24 different products in a wide selection of packages. In the machinery of the packing plant, Aksun, which has automatic bolding, weighing, packing and palletizing facilities, is exporting citrus fruits over 20,000 tons in a season of 6 months. Ending the citrus season as of March, Aksun continues to export fruits and vegetables such as watermelons, apricots, cherries, figs, grapes as well as tomatoes and potatoes for 12 months.With both the "conventional" and "BIO" products presented for most of its product range, Aksun has become direct supplier of supermarket chains in its target regions. At the beginning of the 90's, Aksun is only selling in the European market, and now it is reaching to every country all over the world by air, land, and sea. Aksun has become a known and preferred brand in both domestic and international market with its reliability and quality.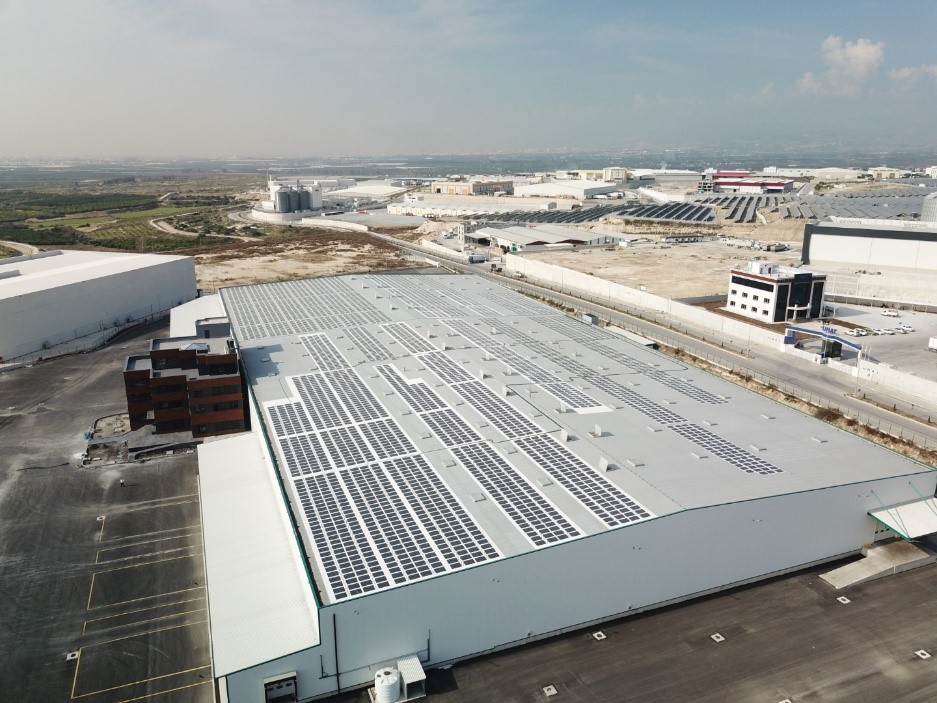 Solar panels providing sufficient energy to power up the packhouse and the office
II. Mission and Vision
Vision: To develop food safety awareness in the field of fruit and vegetable exports and to be a preferred supplier in the world market.
Mission: Aksun's mission has always been to deliver the best of what nature has to offer. So their motto is "Naturally the best."
With this mission in mind, Aksun has always focused on offering and delivering high quality fruit and vegetables to customers in healthy and reliable conditions, packaging, storage and cold chain.
Provision of Premium Products
All their products are within the legal limits on pest control, as the growers use protective medicines at minimum levels in the fields, which will cause minimum harm to nature and environment.
Aksun is capable to meet customer requests, with its customized production and packaging line ensuring strictly held hygiene standards. The maintenance of their machines is carried out monthly by their mechanical engineers, and the cleaning and hygiene controls of their equipment are done weekly with their food engineers.
In order to advance its state and abilities towards supplying its customers with products having improved quality and health, Aksun has implemented and certified its management system with ISO 22000:2005, GLOBAL GAP, BRC, TN and IFS standards.
Additionally, with the certification granted, Aksun has the clearance to process organic products in its own facilities, supplying BIO products since 2010. Being aware of the importance of BIO products to human health, Aksun is aiming to increase its market share in BIO product.
From Plant to Plate
Aksun's strategy has always been to pick and pack in an average of 3 days. They believe freshness is the key to having the highest customer satisfaction in this line of business. That is why Aksun is strategically located in Southern Turkey which produces the highest amount of fruits Turkey has to offer. Location-wise Aksun is strategically located for different means of logistics, only 15kms from the busiest port of Turkey and 55kms to the newly redesigned (end of 2018) Adana Airport.
Saving the Green
Aksun has made the biggest investment for a packhouse in Turkey and moved to its newly built packhouse in 2017. With 22,000m2 in packhouse and 68,000m2 in total area, Aksun is strategically located within Tarsus Industrial Zone with easy access to port and airport.
But Aksun has not stopped there. To help saving the green, Aksun invested in solar panels to produce 100% of their energy requirement and is already selling the excess energy within the industrial zone to help other companies to save the planet. With the excess energy sold, Aksun has reduced its running cost significantly.
Logistic Possibilities
Aksun supplies its customers with 24 different products through 12 months via 3 different logistic alternatives. With the help of Aksun`s sister companies Akin and Petronak Logistics (www.petronak.com.tr), Aksun is able to deliver customer orders on time and on the best conditions.
With the advantage of refrigerated trucks in the company of its own group company, Aksun has become more and more prominent in terms of its success with its service every day. All of the transport operations of Aksun are tracked by a distinct department via online vehicle tracking and delivered to customers.
The main advantage of Aksun is its ability to offer door to door deliveries with DDP. This service is now only available for EU located companies with a requirement of few pallets of fruits every other day. With DDP, the customer has no liability or unexpected surprises as every documentation and procedure is done within Aksun.
Aksun is also one of the key customers of Turkish Airlines. Aksun is able to deliver the fruits on time all around the world with only 3 days order lead time.
Healthy Working Environment
Aksun considers the employees as a social asset and protect their rights during the time they are working for the company and in the future as well. They provide for the workers a suitable healthy and safe working environment and opportunities for their continuous development. To be a more institutional company, Aksun gives QMS trainings to all units and provides employees with up-to-date information as well as training in their respective fields.
III. Products
CITRUS
| | |
| --- | --- |
| 1. Lemon | |
| 2. Grapefruit | |
| 3. Tangerine | |
| 4. Orange | |
FRUITS
1. Pomegranate

2. Apricot

3. Watermelon

4. Black Fig

5. Seedless grapes

6. Qunice

7. UFO-Peach

8. Cherry